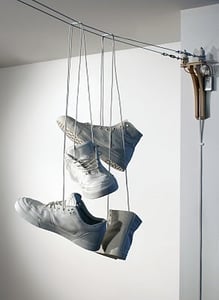 $

2,000.00
From ominous to wistful, the ubiquitous sight of shoes over a power-line inhabits many roles in our collective imagination and urban mythology.
Cast in porcelain, every detail of the tattered shoes are preserved and frozen in time.
Overhead cables carry a charge to the laces that power lights within.
Shoes can be added, removed or repositioned along the cables as the owner sees fit.
$2000 Includes two pairs of shoes, wall brackets, transformer, cables.
Please indicate what style of shoes you would like and an estimate of how long the cables would need to be (if you know where they will be installed)
These are made to order, please allow two weeks before shipping.